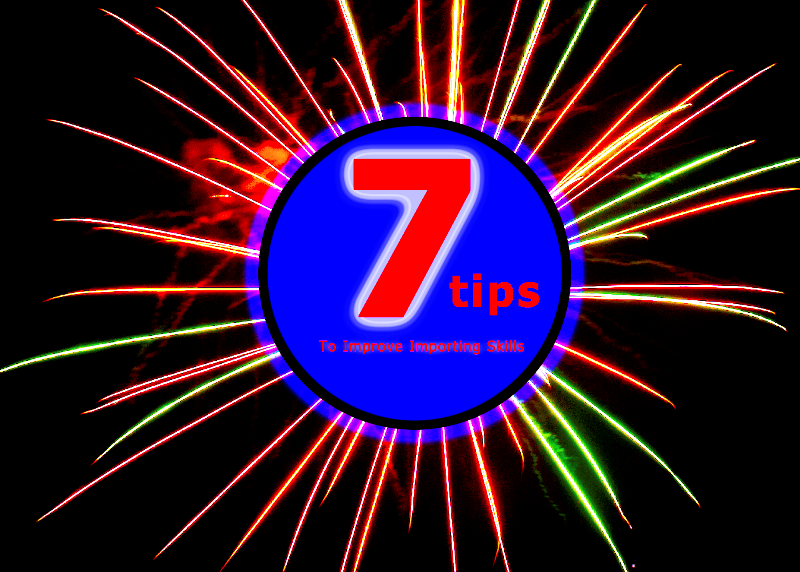 7 Tips to Improve Your Importer Skills in a Rapidly Changing Volatile World Export Market Place

By Marx Wu, President of Magnus Fireworks
Fireworks business is going to be very tough in future years. Change is never easy but we need to change with the changing external circumstances (factory explosions, port closings etc) that we have no direct control over. The purpose of this article is to give you a few obvious to some, but not so obvious to the new to importing containers, the shifting expectations that we as manufacturers require to have a smooth business relationship. You can have a successful import experience if you learn what China manufacturers expect from you the importer. Would you like to become a knowledgeable fireworks importer? I would like to impart my 7 advice tips with you so that you build a foundation of knowledge regarding what we as China designers and manufacturers want you to understand from our vantage point.
1.Do not try to pursue the lowest prices.
Why? There is an old Chinese saying: Cheapest is the dearest. When you get a price which is much lower than the average on the market, be careful. Factory costs are rising due to higher labor and increased material costs so it is impossible to produce products for you without a reasonable profit. If you go for the lowest quote, a broker or factory may produce for you; but they will heavily reduce the quality and performance standards of the items. You risk receiving low-grade items (bunch of junk) as well as inconsistent quality performance goods. The common ways for factory to set your pricing are:
If there is 10 gram effect powder originally in a shot of an aerial cake, he will put 8 grams or less;
Use inferior powder material instead of the quality so the colors are weak and unstable;
Use of the weak soft tube packaging instead of a superior grade hard and protective packaging causes shipping and shelf deterioration issues. Your products could end up being "duds" or worst harming a customer.
Lots of Chinese companies strive for your order by an initial "teaser" low price sheet but they may "cut corners" or not get the production of the items complete because company does not have solid financial resources or good name or good credit to secure completion of all goods requested. This experience you importers call "The Chinese Surprise". The China email or call comes in late Spring that the following items can't be finished in time and you must select from a list of generic factory overstock. The factory is basically saying we are not making any money on these items because of the unfair pricing; hence, you the importer are not going to receive the items in your container. So you were counting on those items to keep your shoppers with you and your supplier has broken their promise to you as well. This results in broken trust which can hardly keep your friendship let alone keep improving and developing your business relationship. This is a worst case situation where you will tell all your other pyro connections that you got shorted product or you got delivered inferior items in place of what you thought you would receive. Therefore, you risk seriously harm and bad reputation to your business as you are going to go ahead and sell regardless what you received in that container to try to recapture your investment.
In conclusion, allow in your shelf markup a reasonable profit to your vendors. You will win a long lasting trust and a China vendor devoted to continued cooperation and your success which is good for your business long term. Your customers will be happy with the end result and return to shop with you because the adage is true that "You get what you paid for".
2.Be aware of "Copycat" Companies.
Every year, you may find some COPYCAT companies which are pandemic stealers of others first run design ideas. Whatever is a runaway consumer hit due to creative input, it then follows- knockoffs occur routinely. Directly copying the inventor's effect, labels, artwork or names is a lookalike knockoff. They will make a slight change to the exterior package but what is inside is not near the same quality production goods. While China has the reputation for creating knockoff purses and clothing. It would be a drastic mistake to do the same with pyrotechnics. The risk/reward ratio is not worth it. Plus, many inventors are so sick of this flagrant bad behavior, so no surprise here, we have started to take action to protect ourselves by registering copyright on artwork or names. When you are cooperating with an un-innovative and copy-only company, it will reflect eventually on your company reputation for carrying 2nd or 3rd tier goods. It is better for you to look for a true high grade producing creative company, not a "me too" copy cat one or at least search for a compromise - a middle grade level consistent production factory.
3.Be aware of a just say "Yes Company".
Like its name says, "Yes company says Yes to every request" you submit. But the fact is, when he answering Yes to you, he may never plan to fulfill any or all of it. What he wants is the temporary cooperation chance with you that may lead to others. Facing this situation, how can you detect that he is lying to you and will not be the honest partner you should be looking for? A story was told to me, one USA importer I shall call Bob for privacy sake, visited one company's showroom when he came to China. He asked the owner: can you produce all these products listed on the shelf? China rep answered Yes, we can produce them all and please place your order. But actually, many samples on the shelf are just their collection from somewhere else and even Bob woke up and realized that fact.
If you place a container order with just any broker, be ready for the let down and realize you may be in a situation of a rep "overpromising and under delivering". In conclusion, what you are looking for is an honest "tell the truth" company, not a nefarious one.
4.Before starting your business with ANYONE, get 2 current references.
When you come to visit China, do not just see his demo only. Go to the factories to test his production products and check the quality. Normally, the new products may not come into manufacturing in factory when you visit them in September or October. These samples are made from technicians themselves without AFSL testing. They may look great if the technician increased their standards. Unfortunately, it will not reach that level in final production unless they are violating international guideline rules and regulations.
If moving forward with any broker/company, I suggest when they prepare the demo list for you, also ask to add some production products to shoot together so you can compare them. Otherwise you are risking a "bait and switch" delivery.
5.Do not import illegal products.
I receive this question often. Some clients ask "could you make some 'special' items for me?" Meaning they want overload that contain prohibited chemical products. My answer is, NO. These overloaded products that slip thru into the market, may bring your stores the wrong kind of visitors. You may have Alphabet Police visit which would be more trouble than the profit the item might make you. These products are then pulled especially if there is a reported accident. You now get the visit and you have the hassle of needing to destroy them following CPSC "proper steps". Plus CPSC and BATF follow the buying chain from your store door back to China factory.
Bottom line: you are the one out the goods and the use of the product to sell. This is a painful way to hurt both of you and your reputation. And you now have your name and company on a FED watch blacklist. You only have your reputation and your product in this industry to keep you in business "if you are in it to win it" long term.
6.Avoid placing your order with an unrealistic timeline.
I harp on this every time I meet my customers. Many buyers have no common sense on the needed production timeline of their orders. They spend (my opinion) way too much time deliberating and comparing products and vendors rather than asking" how much lead time is needed if I place an order with your operation in the next week"?
You should place your orders in September or even earlier. The American expression "the Early Bird gets the Worm" applies. Normally, having 3-4 months before Chinese New Year would be a preferred timeline for an American order production cause there is dry and cool weather which keeps the powder at peak performance.
Here is a flow chart for your concept.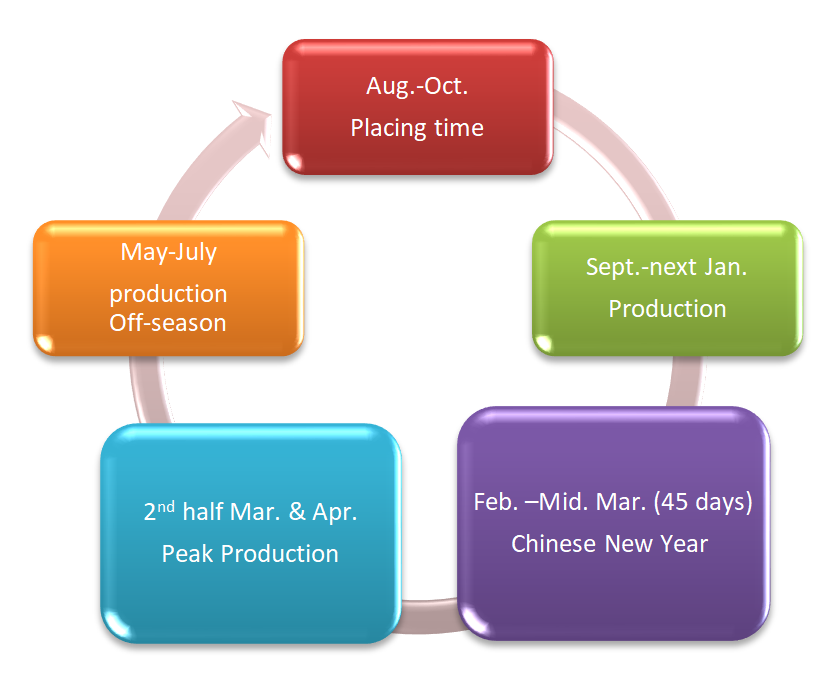 A good situation is you get your shipment started well before festival so we do not have to rush. If you place your order at last minute, the factory will be very challenged to meet your schedule and you will get "The Chinese Experience". They will be facing the spring rainy season, high peak "rushed and not completely dried" production along with uncertain backed up shipping schedules, so that you may still be worrying and wondering when your goods will get finished and your container will ship.
Do not like high risks with your money? Then place your order by August, if you truly want the best outcome- meaning getting every item you need for the following sales season.
7.Pay your bills in a timely manner.
Good payment is the key to your cooperation with your partner.
If you have good payment history, you will obtain good credit which is a great asset for your business and your future growth.
If you have some unique situation delaying your payment, you should tell your problem to your vendors in order to discuss an adjusted new payment arrangement. Nothing is worse than not hearing the truth in time to find a solution. We need your payments to keep the workers working and not leaving due to new better work opportunities.
Remember, when you fail to wire on time, it is time for your vendor/s to question why and adjust what they send you based on your actions.
A mutual partnership involves both sides giving and receiving complete transparency thru out the buying process.
We in China need to show periodically where we are with your production line so you can decide a plan B course of action if an item gets dropped or fails to pass ASFL tests.
This is my candid advice and I hope the information is helpful so both China and USA firework companies are on the same clear communication path in order to have a successful 2018 season.
(This article was edited by Marilyn O'Connor, Owner of Boom Town Fireworks)