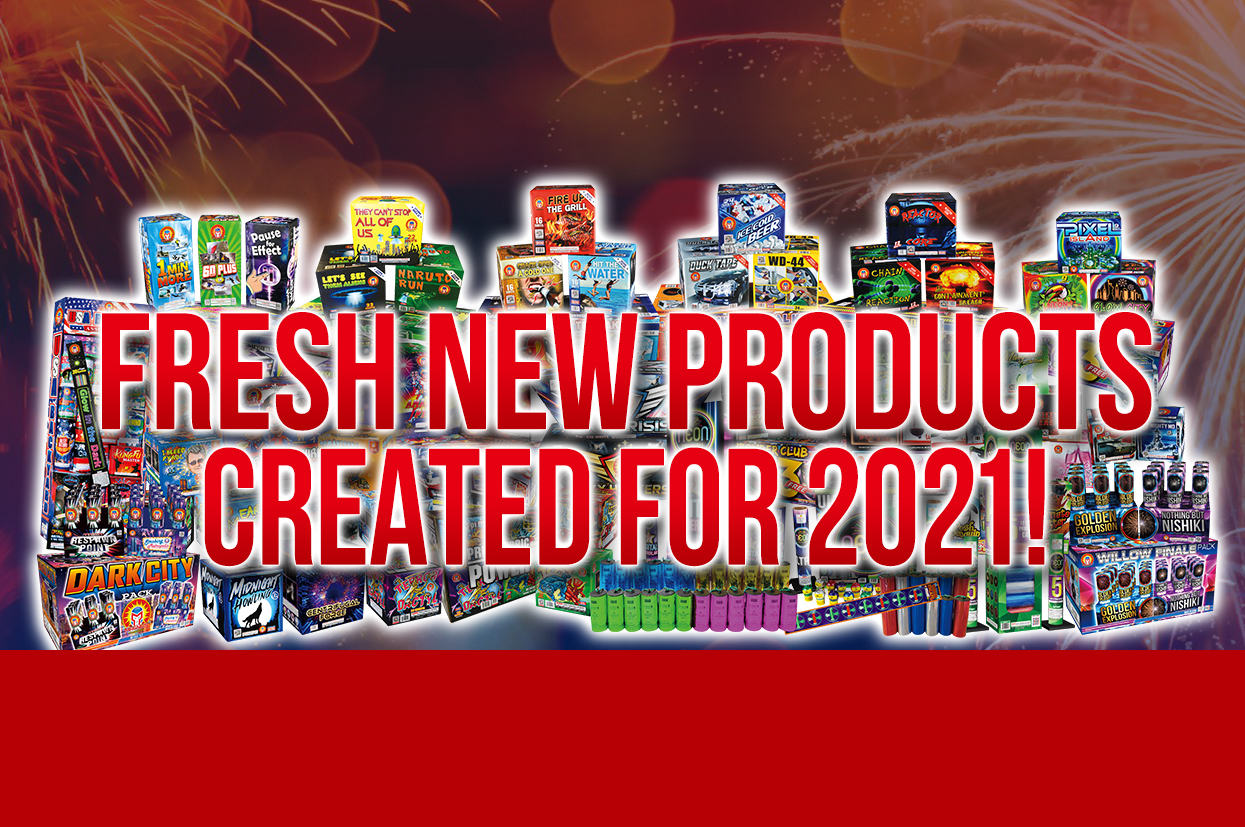 Greetings to all our loyal importers, wholesalers, retailers, and fireworks fans!
Magnus Fireworks is excited and proud to introduce our 2021 lineup of consumer fireworks! At Magnus, we never stop innovating, and within the pages of this 2021 catalog, you will find a wide variety of exciting new items, each with vivid colors, crowd-pleasing effects, eye-catching artwork, and must-have product names. With enticing titles like "Redneck Survival Kit," "Choose Your Weapon," and "Storm Area 51," these new products will be instant hits with your customers!

For 2021, we are excited to introduce seven varieties of promotional combination cases under our new "Buy 2, Get The 3rd Free" series. These exciting new cases provide the retailer with a unique way to increase sales quantities without sacrificing margin. You set the price, and the colorful, self-promoting cases do the marketing for you. Not only will these cases fly off your shelf, but the incredible performances will bring customers back for more!
You'll also be thrilled to see not one, but TWO brand-new 432-shot zipper cakes, "Sky Crisis" and "Sky Hunters," available as an enormous combo pack. These cakes have a huge shelf-presence and an even bigger performance! And be sure to check out our other new full-color case combo packs, including "Prehistoric Power" (with catchy dinosaur names, in both 500g and 200g versions), "Pyro Pressure" (dedicated to the NFA Safety Team), "Pick Your Poison" (an amazing 6-pack of 350g cakes with crisp artwork that sells itself), two different 9-shot rack twin-packs, and more!
Also new for 2021, take a look at the patriotic 15-shot "Military Tribute," one of several 350g value cakes with big effects and small prices. These are sure to be big sellers at retail locations everywhere. And because we are always innovating, we were even able to make improvements to many of our already-incredible, professional-style NEON brand items for 2021.
As you'll find in the pages that follow, Magnus remains dedicated to providing you with the highest quality fireworks at excellent price points. We invite you to review our new items for this coming season as well as our classic collection of proven best sellers. Thank you for your business, and we wish you a safe and prosperous 2021 season!
The Magnus Fireworks Team